Recipes
Recipes from Secrets She Kept

View a sample recipe below, or click here to download the full recipe list!
LIESELOTTE'S APPLE NUT CAKE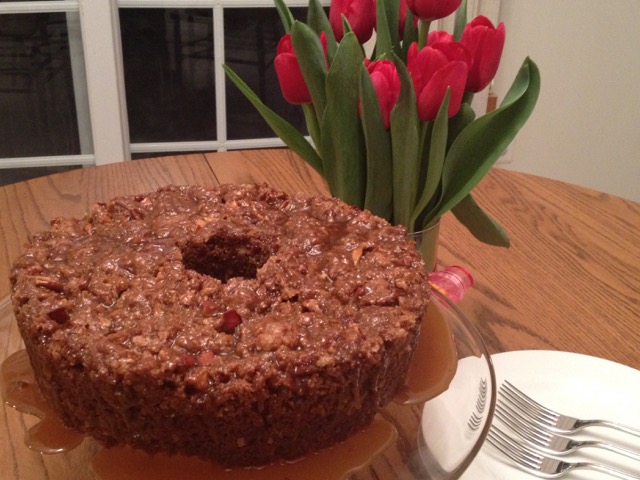 Cake Ingredients
3 cups unbleached flour
1 teaspoon soda (make sure soda is fresh)
1 teaspoon cinnamon
2 cups sugar
1 and ½ cups Wesson oil
3 eggs
3 cups well diced apples
2 teaspoons vanilla
1 cup chopped pecans
1 cup coconut (optional)
Brown Sugar Butter Glaze Ingredients
1 stick butter
1 cup dark brown sugar
¼ cup milk
Directions for Cake
Sift together flour, soda and cinnamon.
Mix sugar, oil, eggs (one at a time) and vanilla in a separate bowl.
Fold in the other ingredients.
Pour into a greased and floured tube pan.
Bake at 325 degrees for 1 hour and 15 minutes.
Allow to cool on cake rack for 20 minutes.
Remove from pan and cool completely.
Directions for Brown Sugar Butter Glaze
Mix all ingredients and boil slowly for 2 and ½ minutes, stirring constantly.
Pour over cake and allow to set.
This cake stores well at room temperature or in refrigerator and grows more moist each day, so it's nice to make a day or two ahead.
Recipes from Saving Amelie

View a sample recipe below, or click here to download the full recipe list!
Oma's Purple Plum Turnovers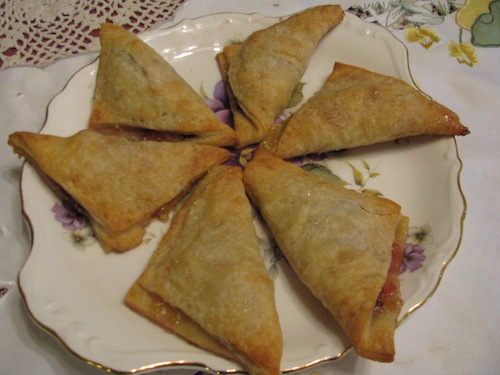 Ingredients
(Pastry)
½ cup margarine
1 cup flour
½ cup small curd cottage cheese
(Filling)
2 cups chopped prune plums (These bluish/purple plums are usually available in U.S. grocery stores or farmers' markets in September)
¾ cup sugar
1 teaspoon grated lemon peel
½ teaspoon mace
2 Tablespoons Tapioca
Directions
Combine pastry ingredients. Chill pastry in refrigerator.
Line cookie sheets with parchment paper.
Combine ingredients for filling and let stand at least 15 minutes while rolling pastry very thin on well-floured board. (Keep pastry cold)
Cut pastry into 5 inch squares.
Spoon plum filling on half of each square and fold to create a triangle.
Seal edges with fork.
Sprinkle with sugar.
Bake on parchment papered cookie sheets at 400 degrees for 15-20 minutes.
*Makes 10 turnovers.
Recipes from Band of Sisters
View a sample recipe below, or click here to download the full recipe list!
Colonel Wakefield's Favorite Apple Crumb Pie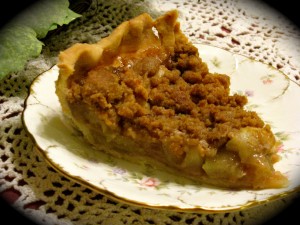 Ingredients
5 large apples or 7-8 medium apples
½ cup sugar (raw, preferred)
Pinch of salt
¼ teaspoon cinnamon
¼ teaspoon allspice
2 Tablespoons flour
2 Tablespoons melted butter
1 Tablespoon lemon juice
Topping:
1/3 stick butter
½ cup brown sugar
½ cup flour
Directions
Preheat oven to 425
Prepare pie shell
Combine sugar, salt, cinnamon, allspice and flour in a large bowl.
Peel, core, and slice apples thinly.  Toss with dry ingredients until apple slices are well coated.
Combine melted butter and lemon juice, and stir into apples.
Pour apples into prepared pie shell.
Combine ingredients for topping and mix thoroughly.  Crumble topping over apples in pie shell.
Bake pie at 425 degrees for 10 minutes.  Reduce oven temperature to 350 degrees, and continue baking for 45 minutes or until apples are soft and top is golden brown.
Recipes from Promise Me This
View a sample recipe below, or click here to download the full recipe list!
Owen's Favorite Orange and Currant Scones
"The moment Owen stepped into the boarding school kitchen, Annie pulled him to the table and sat him down across from her. Carefully she set a pot of steaming tea and her plate of warm orange and currant scones, with pots of marmalade and Devonshire cream between them."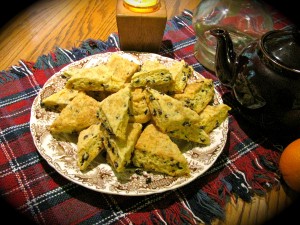 Ingredients
2 cups all-purpose flour
¼ cup sugar (raw or white)
3 tsp. baking powder
½ tsp. salt
1 stick (8 Tbsp.) cold butter, cut into pieces
¾ cup currants
1 egg
½ cup heavy cream
Zest of two oranges
Raw sugar for sprinkling on top
Directions
Preheat oven to 350. Lightly grease bottom of 8 or 9 inch square or round baking pan or sheet.
Mix flour, sugar baking powder and salt together with fork (or pulse in a food processor) to combine. Cut butter into mixture (or pulse in processor) until the mixture looks like peasized crumbs. In a large bowl combine this mixture with currants. Separately, whisk together egg, heavy cream and orange zest. Combine with the flour mixture. Stir until moist and large clumps of dough form.
Turn dough onto lightly floured surface and knead only until the dough forms one ball. Roll (flouring as needed) into a 9 inch square or round (depending on desired shape of scones), about ¾ inch thick.
Either cut the dough into small rounds, using a cutter, or cut the rounded or squared dough into eighths for large scones (or sixteenths for small scones), and place on cookie sheet or in baking pan. If using a round cake pan, you can even leave the dough in one large piece and score the top into sections, breaking or cutting when ready to serve.
Sprinkle each scone lightly with raw sugar. Bake about 25 minutes or until the scones are slightly golden.
Remove from pan and cool on rack at least 10 minutes before serving.
Serve with butter, or orange marmalade and Devonshire cream
*Piping hot tea is the only other essential accompaniment
**Served warm, the melt in your mouth goodness of scones is part of British tea-time ritual.

Recipes from I Have Seen Him in the Watchfires
View a sample recipe below, or click here to download the full recipe list!
Aunt Sassy's Molasses Cookies
"Aunt Sassy walked in, balancing a tray of steaming sassafras tea and fresh molasses cookies. My mouth watered at the sight, the smell."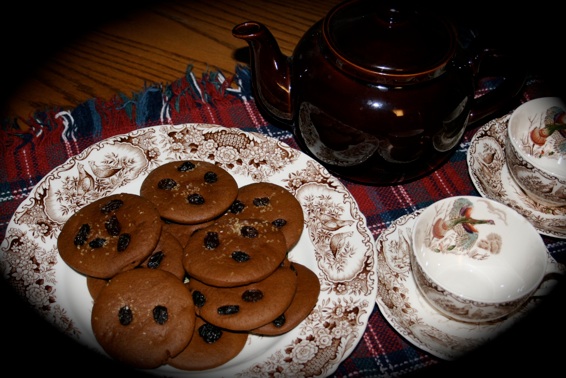 Ingredients
1 cup sugar (white or raw)
1 cup molasses
1 cup shortening
3 cups flour (to start)
3 teaspoons baking soda
1 teaspoon baking powder
1 teaspoon salt
2 teaspoons ginger
1 teaspoon cinnamon
1 egg
¾ cup warm water
1 cup raisins (optional, but tasty)
Directions
Heat sugar and molasses together over medium low heat. When sugar is dissolved, add shortening and stir until melted. Remove from heat.
Sift flour, baking soda, baking powder, salt, ginger and cinnamon together.
Beat egg into water. Add dry ingredients and raisins alternately with egg and water.
Stir until soft, smooth dough is formed, adding more flour as needed.
Chill dough for 2 or more hours, until easy to handle.
Roll dough on a lightly floured surface to ¼ inch thickness. Cut with a glass or large, round cookie cutter. Place 1 inch apart on greased baking sheet or parchment paper. Bake at 325 degrees for 10-12 minutes. Cool on racks.
Recipes from William Henry is a Fine Name
View a sample recipe below, or click here to download the full recipe list!
Aunt Sassy's Lemon Nut Cookies
"These be my special lemon nut cookies you so fond of, Miz Laura." Aunt Sassy's voice came smiling and prideful.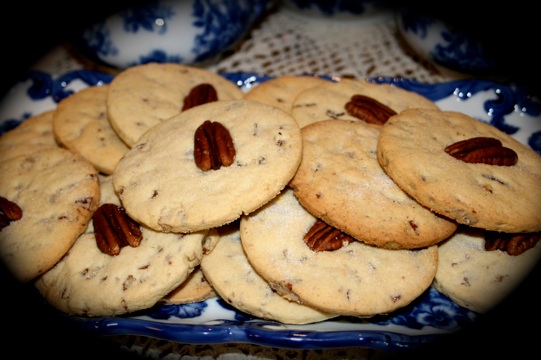 Ingredients
1 stick butter (8 tablespoons)
1 cup sugar
2 eggs
1 teaspoon lemon extract
1 teaspoon grated lemon zest
2 teaspoons milk
1 and ½ teaspoon baking powder
2 and 2/3 cups all-purpose flour
1 cup chopped pecans
Pecan halves
Fine sugar to sprinkle on top of cookies
Directions
Beat butter until light. Add sugar gradually, creaming well. Beat eggs lightly, and add to butter mixture. Add lemon extract, lemon zest, milk and mix well. Gradually blend in baking powder and flour to form dough.
Roll dough to ¼ inch on lightly floured surface. Using cookie cutter or glass dipped in flour, cut 2 ½ inch rounds and place on parchment paper or buttered cookie sheet. Sprinkle tops of cookies with fine sugar and add a pecan half to center. Bake 13-14 minutes. Remove cookies and cool on wire racks.
Makes approx. 3 ½ dozen cookies.